Setting
The jagged cliffs that surround Port Moon host an abundance of
wildlife, with vibrant coloured Sea Pinks peppering the clifftops in the Spring. Colonies of Buzzards, Peregrine Falcons, Swallows and the occasional Kestrel nest in and around the cliffs which make a magnificent sight when soaring in an onshore breeze.
Similar to other fishing stations along the North Antrim coast such as Kenbane and Carrick-a-Rede, the rugged coastline prevents easy access to the nets by land. Access to Port Moon is only possible by a path that zig zags down the steep slopes or by boat in to a natural harbour in the bay.
Facing Port Moon is nearby Rathlin Island,
with Kintyre and the Paps of Jura looming behind. These seas were the ancient highways for the movement of people and cargo which brought about close ties with the coastal communities across the water, a fact confirmed by the family names connected with fishing at Port Moon; McKays with old connections with the Stewarts of Bute and Macnaghtens, an ancient Clan from Argyle.
Isolation
The imposing cliffs of Port Moon and the often hostile seas create
a powerful sense of isolation in the bay. The sight of the land from which their maritime traditions originated, reinforced an identity amongst the fishermen that never forgets its heritage from across the water. The basalt columns at the end of the bay echo the world famous Causeway Stones around the headland with its stories of Giants from across the water told by nearby guides down through the ages giving further hints of the cultural links across the sea.
The interaction of tides and currents racing round the nearby headlands and a swell generated from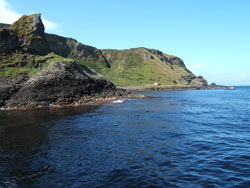 thousands of miles of uninterupted Ocean required considerable expertise to navigate. With the demise of the fishing industry, the detailed knowledge of these waters is no longer being passed down through the generations. The disintegration of the physical elements of this industry is now further eroding the identity of nearby communities.
The Fish House is protected from winds by the steep cliffs except those coming from the East, but without regular repair work is becomming ever more vulnerable to the elements.